Hi loves! It's the weekend!!! Time to unwind, relax, and run errands right? It's also the last weekend before Halloween so there are tons of Halloween parties going on this weekend! I went to one myself yesterday and it was SO FUN!!! I went as Maleficent which I've always wanted to be. It was a blast!! Today I'm sharing another October Orange polish. October is almost over so I'm going to try to share as many as possible in the next couple days. Let's take a look at Sundown Socialite by Sally Hansen.
This is an orange/copper shimmer. It is STUNNING!!!! WOW! I thought it would be a bit shifty but it's mostly a fiery orange. The formula is great. Applies well and evens out in 2-3 coats depending on your application.
I love how the shimmer glows under sunlight!
It's of course the perfect canvas for a Halloween mani, especially with Halloween around the corner I thought it would be perfect. I purchased a bunch of these cute packs of Halloween stickers at the Target Dollar Spot.
I used the glittery sparkly set and it was so cute!!! Make sure to add a top coat to this to seal the stickers in and make them last longer. I used Seche Vite which you can purchase here.
These stickers are soo soo cute and even great for kids! I love the glitter in them. The ghost would look amazing over a matte black polish. I think I'm gonna try that next!
These are also super cute nail stickers by SPRITZ from Target that you can get online for a fun Halloween mani. They are only $2.50!!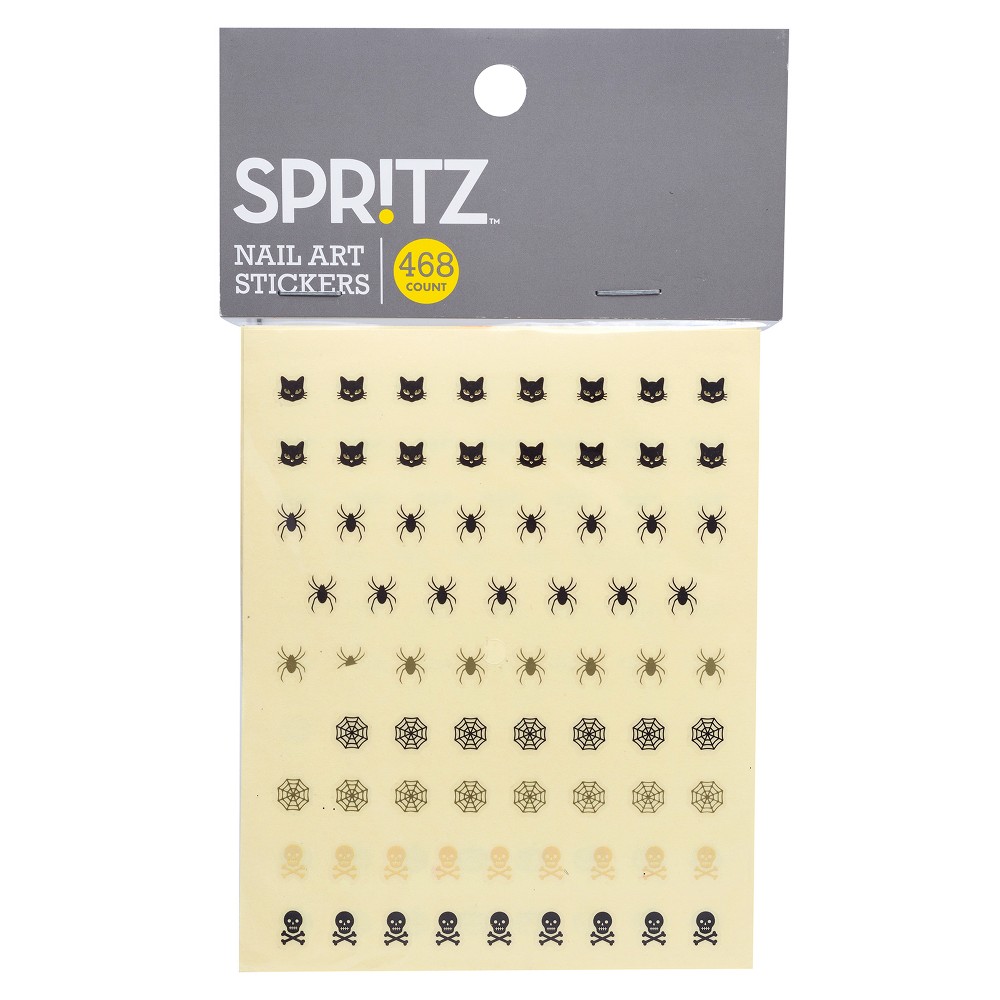 Sally Hansen Inc. is an American beauty brand, first founded in 1946 by Sally Hansen herself. Since then, the brand has become famous for its dedication to making innovatively- formulated beauty products for real women. The award-winning brand now has over 300 shades, is distributed in over 55 countries worldwide, and is the number one nail brand in the U.S.A. amongst other countries. But Sally Hansen is so much more than just nails, with products spanning 5 beauty categories: nail color, nail care, sunless tanning, hair removal, and beauty tools.
You can purchase Sally Hansen Miracle Gel polish on Amazon here.
Are you dressing up for Halloween? I'm dressing up again on Wednesday to celebrate Halloween officially! I can't wait 🙂
FTC: I was sent this polish by Sally Hansen as PR. Some are Amazon Associate and/or Target Affiliate links. As an Amazon Associate and Target Affiliate, I earn from qualifying purchases. You don't have to click on these links, but if you do and make a purchase, it helps me continue making blog posts for you guys!